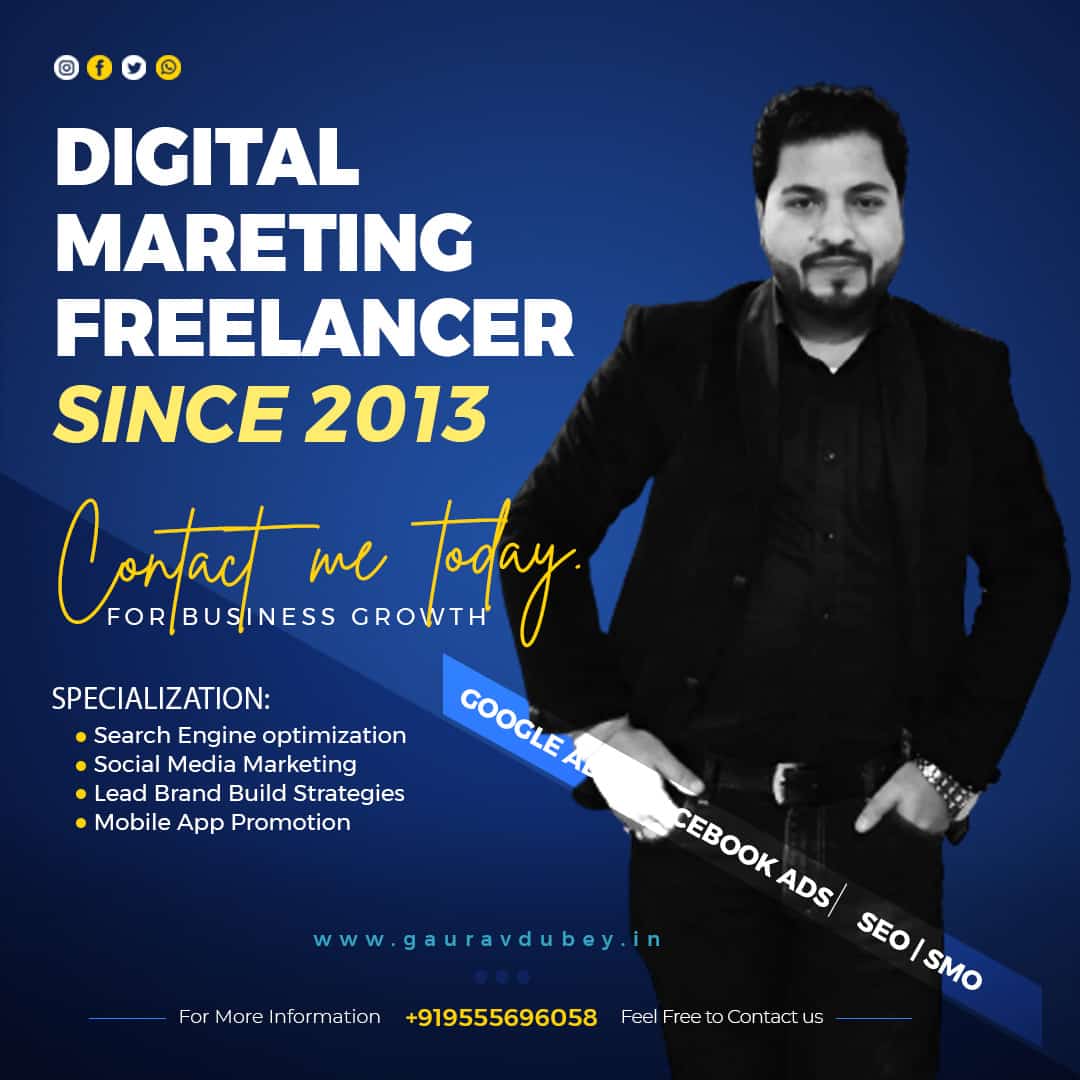 Gaurav Dubey is India's Leading Digital Marketing Consultant & Trainer Based in Delhi. He is helping Small businesses and reputed brands with digital marketing needs since 2013. He has been working as a digital marketing consultant for many national and international projects and leveraging the best online marketing medium to generate quality leads and increase sales conversions for clients. His role varies from project to project. Sometimes he works as an SEO consultant, sometimes as a Google Ads consultant, and as Social Media Marketing Consultant for many companies. To date, He has worked on more than 580 digital marketing projects with a team and independently. Gaurav Dubey is a result-oriented Digital Marketing Freelancer in Mumbai, who works with a commitment to better ROI and continuous improvements. You can reach him with the form below, and send your query to talk about your digital marketing needs. Gaurav Dubey is having good expertise in the digital marketing industry where he can adequately choose the right marketing channels you're your business as per your services or your product along with your target audience. This is the way of getting the successful result of any digital marketing campaign.  You can hire Gaurav Dubey to increase brand awareness, increase product sales, generate qualified leads, and convert more sales.
Gaurav Dubey Has Worked With
Here is the latest list of clients, Gaurav Dubey has worked with – Digital Marketing Portfolio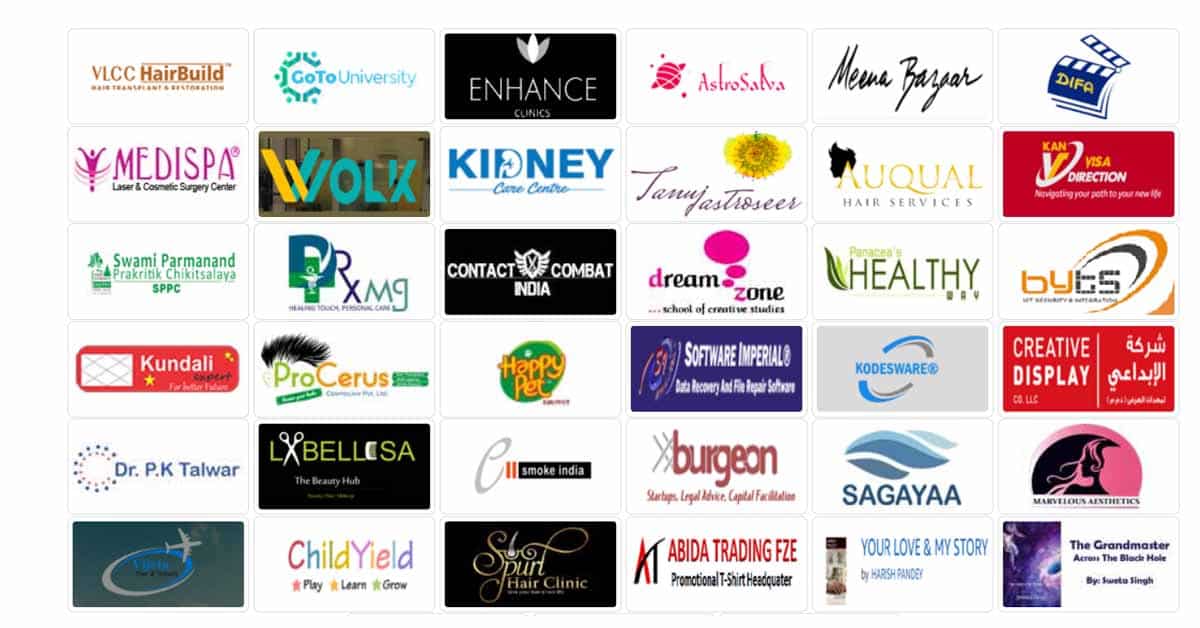 Various Industries – Gaurav Dubey Has Worked Most
Cosmetic Surgery
Hair Transplant
Non-Surgical Hair Replacement
Astrology
Astrology Course
Nephrologist
Coworking Space
Real Estate
Overseas Education Consultants
Civil Service Institutes
Graphic Design, Fashion Design Institutes
Immigration Consultants
CA Firm
Gym
Hotels
Travel Agency
Dietitian & Nutrition
RO Repair
Talk About Your Business
Services Offered By Gaurav Dubey:
On-Page SEO Services
Technical SEO Services
Off-Page SEO Services
Local SEO Services
E-commerce SEO Services
Multiple Language SEO Services
Social Media Marketing Services
Facebook Marketing Services
Instagram Marketing Services
LinkedIn Marketing Services
YouTube Marketing Services
Lead Generation Services
Content Writing Services
Copy-writing Services
Website Designing Services
Landing Page Designing Services
Graphic Design Services
Amazon Marketing Services
Flipkart Marketing Services
Website Audit Services
Website: www.gauravdubey.in
Phone: +919555696058, +919821918208
---
Digimark freelancer is a best digital marketing freelancer in Mumbai which aims to meet consumer demand by providing freelancers tailored to the needs of clients. At Digimark, They take full pride in the work they deliver. Thus, starting from generating quality leads and increasing engagement rates to making sure your business benefits from their marketing strategies, Digimark will guide you at every step. Read more
Services Offered:
Website Development
Search Engine Marketing
Complete Digital marketing
Search Engine marketing
Google Ads
Facebook & Instagram Ads
Contact Detail:
Phone Number: +91 8355884132
Puneet Mittal is one of the best digital marketing freelancer in Mumbai and his vision is deliver measurable results to clients, creating business value, He always wants to become a partner in your digital growth applying his marketing expertise. Read More
Services Offered:
Digital Marketing
SEO
Website & App
Creatives
Contact Detail:
Phone Number: +91 98670 54865

TasKmo workforce is a marketplace that consists of digitally trained skilled and semi-skilled professionals who are ready to enter the gig economy and work consistently for week-long engagements or until the need exists. They are proud to say that Taskmo has worked with several popular brands across diverse industries such as e-commerce, FMCG, Retail, Food tech, Warehousing, Events, Marketing, Healthcare, and so much more. Read more .
Services Offered :
Merchant Onboarding
Background Verification
Tele Sales
Last Mile Delivery
Customer Acquisition
Stock Audits
Geo Tagging
Brand Activation
Picker And Packers
Survey Collection
Product Sampling
Influencer Marketing
Customer Support
Content Moderation
Warehouse Services
Contact Details:
Phone Number:  +084484 49069
The unique "Out-sourcing Programs" & "Virtual Business Assistance" is the need of the hour and helpful to companies as it does not burden them to hire expensive staff. All our services are result concerned with and are remotely managed for you.
Communication programs help you to create high impact websites, social media plans, creative print media, brochures and E Marketing. Finance is the fuel which helps a business to grow demographically and in strength – we can restructure your business finance by the mode of fund infusion, private equity, seed fund or venture capital. If you want to grow you need wings of steel strength to fight this competitive world. Read more.
Services Offered:
Sales
Communication
Business restructuring
Management consultancy
Contact Details:
Phone Number:91+983361331

"NGS is an Digital Marketing Agency Serving clients from 2009.He have a  team of professionals who are expert in the fields of Search Engine Optimization, Pay Per Click and Social Media Marketing. If you own a website or an online business, one of the most important and crucial decisions that you will have to make is which digital marketing agency to hire." Read more.
Services Offered:
Search Engine Optimization
Social Media Marketing
Pay Per Click
Web Design & Development
YouTube Marketing
E-Commerce Marketing
Affiliate Marketing
Contact Details:
Phone Number:+91 9322015102
+91 8108844205
People always tend to get confused when coined with the term digital marketing. Not everyone understands the different pillars of digital marketing such as SEO, SEM, Content, Website etc. As a freelance digital marketer in Mumbai, he help them understand these pillars and leverage them to exponentially increase their brand awareness and market share. Also,  he believe there is no one magic formula in digital marketing, that's why, he trained herself in a range of digital marketing fields such as Search Engine Optimization, Search Engine Marketing, Social Media, Content Marketing, Website Development to name a few. Read more.
Services Offered:
SEO (search engine optimization)
SEM(google Ads)
SMM(social media marketing )
Websites Design& Development
Graphics Designing
Contact Details:
Phone Number:+91 879 673 3968
Mumbai Freelancer was founded in the year 2007. They based in Pune, India, and  successfully work with clients from all over the world. Since our inception they have been offering quality website design, search engine promotion, web development. Our clients include professionals working in the IT sector, small and medium businesses. Our area of expertise includes SEO, online business consulting, internet marketing, content management, blogging, Social Media Management, Link building and a host of other services. Join their  list of clients to enjoy quality online services at an affordable rate. Their services are not restricted just to India  they serve clients from all across the globe.  at Mumbai Freelancer offer tailor-made solutions on the basis of the specific demands  on customers. Read more.
Services Offered:
   contact details:
Phone Number:8208569646

If you are looking for a digital marketing freelancer who will help you take your business to next level and provide you with top-notch services, at affordable packages look no further. As a digital marketing freelancer with having 2 years plus experience in result driven digital marketing solutions,    He offer complete digital marketing services with positive results. Read more.
Services Offered:
complete 360 digital marketing
search engine optimization& marketing
Contact Details:
Phone Number: 91+ 9167269998
They believe that we must keep the 'digital wheels' turning at all times. So, Her assistance is available to our global Clients virtually.  you get your campaign reports, Social Media posts, designs for approvals, or content submissions ON TIME. Their team will be available for you on Skype, WhatsApp, email, and call. Read more.
Services Offered:
Performance Marketing
Social Media Management
Search Engine Optimization
Creative Designing
Content Writing
Corporate Email Campaigns
Mobile Marketing
Contact Details:
Phone Number:91+ 8108234077
SEO Freelancer in Mumbai is a freelancer SEO professional who helps you in building your brand name as well as driving targeted traffic to your website. Search engine optimization is an important tool that enables your website to get a higher ranking in search engines like Google, Yahoo!, and Bing.  SEO allows a site to gain more exposure in the major search engines. Hence, SEO Freelancers in Mumbai will be very beneficial for your organization as they help you with all the strategies to get more online visibility and traffic for your site. Read more.
Services Offered:
Creative design
Research &development
Contact Details:
Phone Number:+91 8218351738