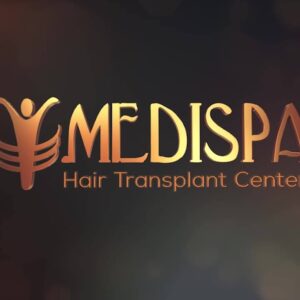 Best Hair Transplant Clinic In Jaipur- Medispa Laser, Cosmetic & Hair Transplant Center, Jaipur & Delhi, India a pioneer organization in the field of Hair Transplantation, was established in 2005 by internationally renowned Cosmetic Surgeon Dr. Suneet Soni.
Medispa Laser, Cosmetic & Hair Transplantation Clinic in Jaipur is internationally recognized for providing the world's best aesthetic Hair Transplantation and other Cosmetic Surgery Services under one single roof globally. Their clinics are equipped with state-of-the-art infrastructure with the world's best technologies. At Medispa, UK standard hygiene is maintained to provide a more hygienic environment to our esteemed clients. For Hair Transplant Surgery, there are separately dedicated operation theatres to minimize the risk of infection.
Medispa Laser, Cosmetic & Hair Transplant Clinic, you'll experience that you're in safe hands. Endorsed by Doctors and guided by Dr. Suneet Soni (Consultant Plastic & Cosmetic Surgeon) and his team. They perform all of their cosmetic treatments and procedures in a clean and safe environment.
Providing an extensive range of cosmetic surgeries like hair transplants, liposuction, laser treatment, Etc.., they have delivered satisfaction to thousands of clients. Comprehensive consultations at Medispa Laser, Cosmetic & a Hair Transplant Centre determine the patient's exact requirement to perform the procedure with 100% natural & aesthetic concerns. READ MORE
Treatments:-

 
Hair Transplant Surgery
Liposuction
Laser Surgery
Unwanted Hair Removal
Birth Marks Removal
Keloids and Hypertrophic Scars Removal
Skin Wrinkles Removal
Contact Details:
Address D-145, Opp. Inox, Behind Power House, Amrapali Marg, Vaishali Nagar, Jaipur – 302 021
Phone +91-95717 50906, 87640 60028
ALCS Hair transplant and Cosmetic Clinic, Jaipur, India is a pioneer organization in the field of Hair Transplantation by internationally renowned Cosmetic Surgeon Dr. Sunil Arora. It is internationally recognized for providing the world's best aesthetic Hair Transplantation and other Cosmetic Surgery Services under one single roof globally.
ALCS Clinic, in Jaipur, is the most reliable, as it has a team of experienced cosmetic and Hair Transplant surgeons. Dr. Sunil Arora heads ALCS Hair Transplant Centre. The team under him are trained technicians that assist Dr Sunil Arora. He is a worldwide-known professional in the hair transplant process. His abilities and knowledge are the results of the practice of the past several decades.
As the founder of Cosmetic Surgery & Hair Transplant Centre, Jaipur, Dr. Sunil Arora has been practicing for the past several decades. His pro hands have changed the lives of tens of thousands of individuals in a very short period. He believes in aesthetic hair transplant techniques, and that's the reason why the method of FUT baldness is widely adopted in a majority of hair transplant cases as the capability to extract follicular units to match the high-density hair removal. The amazing outcome of the hair transplant procedure shows the simple fact of the outstanding knowledge & abilities of the operating team. READ MORE
Treatments:-
BIO DHT Hair Transplant
BIO FUE Hair Transplant
FUT Hair Transplant
FUE Hair Transplant
PRP Hair Treatment
Facial Hair Transplant
Body Hair Transplant
Beard Transplant
Hair Transplant In Men
Hair Transplant In Women
Contact Details:
Address- K-58, behind Dana Pani Restaurant, Kishan Nagar, Shyam Nagar, Jaipur, Rajasthan 302019
Phone – 75687-88885
Dr. Hair India Clinic is one of the elite and renowned names in the hair transplant and cosmetic-surgery field in Jaipur run by Dr. Bansal (hair treatment doctor). Dr. Bansal is a master of the FUT and FUE hair transplant methods.
Dr Bansal is known as the best hair transplant specialist in Jaipur because he not only ensures to provide a safe and painless hair loss treatment with no side effects but can treat hair loss from the root level. He holds an experience of 10+ years with 2000+ successful hair surgeries, which is way more than any other hair doctor. Dr. Bansal is revolutionizing the hair transplant field with a motto of 'covering every scalp with hair'.
Dr. Bansal provides pre-surgery counseling, works on the hairline design of the patients, and post-surgery check-ups. He also has a team of skilled technical staff. Dr Bansal strictly abides by the "government's Corona guidelines", ensuring the safety of the patients in this pandemic.Dr Jai Bansal will fill your scalp with new hair, without causing a hole in your pocket along with reliable and long-lasting results. READ MORE
Treatments:-
Direct hair implant
Hair fall treatment
FUT
FUE
Hair restoration surgery
Laser hair regrowth
Platelet-rich plasma therapy
Scalp Micro Pigmentation (SMP)
Contact Details
DHI Medical Group, a global pioneer in hair restoration since 1970. DHI Medical Group is unique in the world of hair restoration in having created its own technique: The Direct Method of Hair Transplants. The company's legacy dates back to 1970 in Palo Alto in California where the first clinic was founded. Over the past 50 years, DHI Medical Group has dedicated itself to a single goal of innovating and delivering the best solutions in hair restoration to hair loss sufferers around the world.It is the world's largest chain of hair restoration clinics with 75 clinics in 45 countries including 16 clinics in India.
This hair clinic in Jaipur continues to lead innovation in the world of hair transplants through its own research and development centres, partnerships with top universities and a global board of advisors including the most accomplished dermatologists and scientists. DHI has been awarded both US and EU patents. READ MORE
Treatments:-
Alopecia Diagnostic Test
Direct Hair Implantation
Scalp Micro-Pigmentation (MPG)
Eyebrow Treatment
Beard Treatment
Hair Prosthetics
Scar Repair
Hair Care Products
Immunity booster
Contact Details
Address 201-201 A,2nd floor Ambition tower, agrasen circle, C-scheme, Jaipur 302001
Phone 1800 103 9300
Rejuvena Cosmo Care is one of the leading centers in Jaipur for cosmetic procedures such as hair transplant, gynecomastia, liposuction, laser treatments, etc. They provide the best and most natural-looking results at an affordable cost. Dr. Deepesh Goyal, who is a qualified M.S. and M. Ch. Cosmetic and Plastic Surgeon in Jaipur, is passionate about providing suitable and effective treatment to his patients.
Dr. Deepesh Goyal is a young and dynamic plastic surgeon in Jaipur having extensive experience in cosmetic surgery. Recently, he received the award for 'Best Plastic and Cosmetic Surgeon of Rajasthan' for his exemplary work and best service in the medical sector.  He is known to provide safe, meticulous, and quality treatments to achieve the best outcomes. His dedication remains at the forefront of his eld make him always upgrade his knowledge and technical skills. Dr. Deepesh is the founder of Rejuvena Cosmo Care, a highly reputed clinic offering cutting-edge plastic and aesthetic surgeries best technologies from across the world.
Dr. Goyal has a special inclination towards aesthetics, cleft surgeries, trauma, and cancer reconstruction. He is efficient in performing cosmetic surgeries like body contouring, liposuction, gynecomastia, rhinoplasty, scar & facial rejuvenation and hair transplant in Jaipur. READ MORE
Treatments:-
Hair Transplant
FUE
DHT
Female Hair Transplant
Contact Details
Address 113, shiv colony, new sanganer road, near shyam Nagar metro station, sodala, Jaipur, Rajasthan 302019
Phone 090244 45544
They have founded 'Je Amour' based on a simple ideology, to help you look more beautiful every day, forever. Je Amour like its namesake stands for everything 'I love'. They wish to help you find that beauty and confidence you have always so desired and deserved. They are here to guide you through the process of achieving the most coveted of looks while still looking very much like yourself, well, of course, only better.From corrective procedures to the most compound treatments, they believe in offering the latest, pain-free, risk-free 360-degree solutions for all your beauty needs.
Trying to stay ahead of the fiercely competent times, they aim at proving themselves at being the connoisseurs in aesthetic practices. Their state-of-the-art skin analyzing diagnostic system determines your skin's needs and directs them to provides comprehensive solutions rather than just treatments.Je Amour embodies the philosophy that beauty desired in any form can be still be achievable. They are striving at this aim by bringing all the restorative and reformative aesthetic treatments under a single roof. READ MORE
Treatments:-
Morass Forte
Platelet-Rich Plasma
Low Level Laser Therapy
FUE Hair Transplant
Eyebrow Restoration
Beard Restoration
Contact Details
Address Plot No 124-A Swaminarayan Crossing, Vidyut Nagar, Near ICICI Bank, Vidyut Nagar, Chitrakoot – 302021
Phone +917070707046
Kalpana Aesthetics is a Hair Transplant, Cosmetic & Plastic Surgery Clinic situated in the heart of Jaipur, The Pink City of Rajasthan.They are proudly in collaboration with Jaipur Hospital, Mahaveer Nagar. Through their website, they wish to bring correct scientific knowledge in an easy to understand manner and bust all myths surrounding cosmetic procedures.
Their motto is " Everyone deserves to be Beautiful." READ MORE
Treatments:-
Hair Transplant
FUE / Punch
FUT / Strip
Hair Line HT
Beard HT
Eyebrow HT
Contact Details
Address 2nd Floor, Jaipur Hospital, Gopalpura Flyover, Mahaveer Nagar, Tonk Road, Jaipur – 302018
Phone 7665669181
Cosmo Hair was established in September 2014, by Dr. Buddhi Prakash Sharma, has become one of the best hair transplant centre in Jaipur, Rajasthan.
The world-class technology, proper take care of the patient, friendly nature of the staff, and treatment by the hair transplant specialist at Cosmo Hair has attracted not only the Indian patients but also from foreign countries too such as Malaysia, United Kingdom, South-east Asian countries, etc. READ MORE 
Treatments:-
Hair Transplant
FUE Hair Transplant
FUT Hair Transplant
PRP Therapy
Beard Transplant
Eyebrow Transplant
Body Hair Transplant
Male Pattern Baldness
Female Pattern Baldness
Contact Details
Address 1st floor, COSMOS , 1/1276, near Indian oil petrol pump , Apex circle , Malviya Nagar , jaipur -302017
Phone  096604 50211