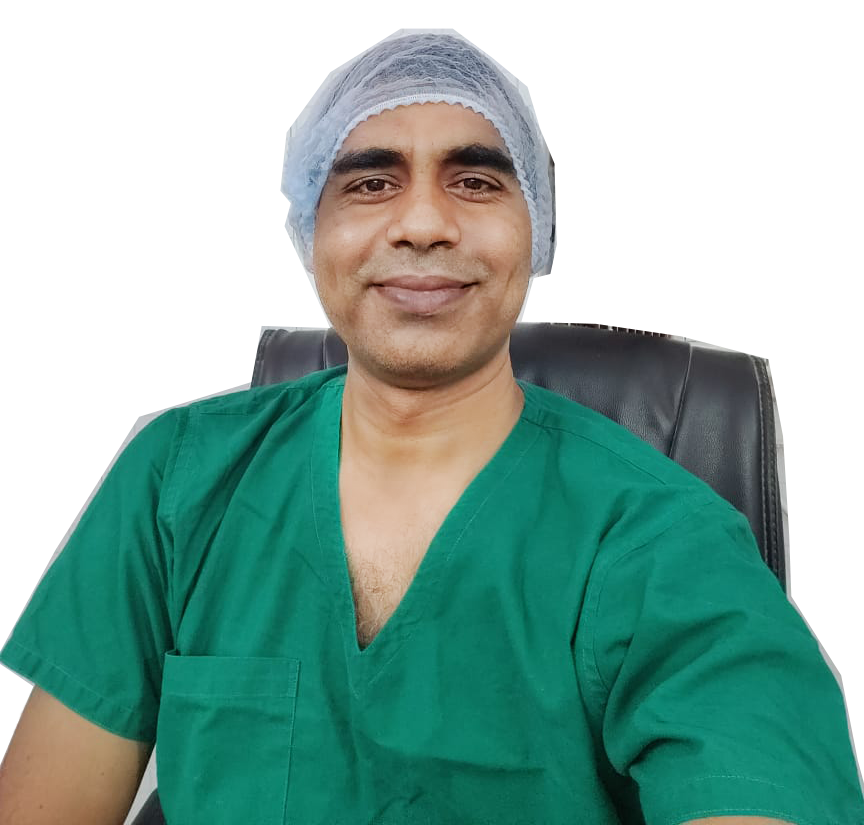 Dr. Onkar Dev is the consultant cosmetic surgeon in Patna. Не is a consultant, cosmetic, Reconstructive, and Burn, Maxillo facial, and plastic surgeon. Dr Onkar has over 12 yrs of experience in Transforming lives of patients of disfigured body (fax Parts due to various causes like Burn, Trauma, Congenital anomalies. He Post graduated (MS) Aft MBBS degree from P.M.C.H. PATNA. Later he completed his MCH plastic surgery degree in 2009 in same college. After achieving vast experience in Cosmetic & reconstructive (Microsurgery) for Trauma, Burn, and congenital anomalies he went to Various hospitals – Apollo hospital New Delhi, Safdarjang Hospital New and Aman deep hospital, Amritsar. He is also known as the Best Cosmetic & Plastic Surgeon in Patna. . Read more…
Service offered:
Face Lift (Rhytidectomy)
Eyelid Surgery
Breast Reduction
Breast Augmentation
Gynecomastia
Lip Augmentation
Hair Transplant
Rhinoplasty
Abdominoplasty (Tummy Tuck)
Botox & Fillers
Contact details:
-573, JOGIPUR CHOWK, CHITRAGUPTA NAGAR, JALESHWAR MANDIR ROAD, KANKARBAGH PATNA – BIHAR 800020
2.Dr.Vivek
Highly qualified Plastic & reconstructive micro surgeon from Bihar, M.ch. (Plastic Surgery), fellowship in reconstructive microsurgery, represented various institution in national and international conferences . Has published over half a dozen papers in a variety of national and international journals.
Over 100 free flaps ( microsurgical reconstructions).
Has done over 100 cases of cleft lip and palate in accordance with the international protocol.
A leading name in the field of Cosmetic & Reconstructive surgery in complete Bihar & neighbour state.
Has earned reputation in reconstruction for difficult wound reconstruction.(cancer wound, bed sore, diabetic ulcer, wounds afret burns and trauma).
Service offered:
 Hair Transplant (Both FUT and FUE)
 Liposuction (Male & Female Both)
Tummy Tuck (Male & Female Both)
 Body Contouring
Breast Surgery (Augmentation, Reduction And Tightening)
Male Brest Surgery (Gynaecomastia)Contact details:
+91 – 9473420338
pcsclinicpatna@gmail.com
A-213, P.C. Colony,
Opp. Jay Prabha Hospital,
Kankarbagh, Patna – 800020
3.Dr. Anshuman Manaswi
Dr. Anshuman Manaswi, M.Ch., Founder Director of La Transformationé and a board-certified plastic and cosmetic surgeon in patna with over 20 years of surgical experience, is among the Senior most plastic surgeons of Mumbai. He is an alumnus of the prestigious medical school, JIPMER, Pondicherry, India, and a post-graduate in Plastic and Cosmetic surgery from the Mumbai University, India.
Dr. Anshuman is a Senior Consultant in the Department Of Plastic Surgery at the Bombay Hospital & Medical Research Centre, Mumbai, as well as at the Nanavati Super Speciality Hospital, Mumbai. His super specialization in breast surgery has earned him a coveted place amongst the Best cosmetic surgeons in India. He is the head cosmetic surgeon and driving force behind La Transformationé, a highly acclaimed cosmetology centre, which is at par with Mumbai's top hospitals for plastic surgery. He has presented many scientific research papers at international and national conferences and has scientific publications in journals of repute.
Service offered: